How to Write a Song
on 16/03/2019
In fact, getting started is considered the most complicated step of the songwriting process. Even the most popular singers such as Tailor Swift and Rihanna commented in numerous interviews that to get a song ready for presenting to their fans requires titanic efforts, sleepless nights combined with tears of sadness, frustration and even despair.
Still, when you finally finish a song, it's a wonderful feeling that can't be compared to any other feeling in the world. To see the fascination of your audience almost worshiping your talent is considered the greatest reward for all those enormous efforts of songwriters. So, let's discover what goes around behind the scenes of a songwriting process and what steps should be implemented to write songs (additionally, you may visit Writercheap.com for more information concerning songwriting peculiarities).
Write a Song: Lyrics or Tune First?
It's natural for every songwriter to break into doubts whether they should start with lyrics or tune composing. The majority agree that to write songs it is better starting with the development of their song's key melody and lyrics comes afterward or in parallel to that. Once songwriters get the main chord, there appears no problem while building the rest of a song around the key chord.
However, if you can't start with an ideal melody first, don't worry as it's probably not your method to write songs.
If they make up their mind to start with lyrics first, it is a nice idea to start with the title of a song. Compose at least one phrase containing five or eight words. Note that this phrase should reflect the heart of your song's message. Choose words that give interest and energy. Many songwriters sincerely say that writing of their best hits started from the title.
You see, there doesn't exist some general rule what one should start with to write a music story. It is up to the songwriter and their inspiration to decide their individual starting point.
Think Deeply about the Lyrics to Write a Wonderful Song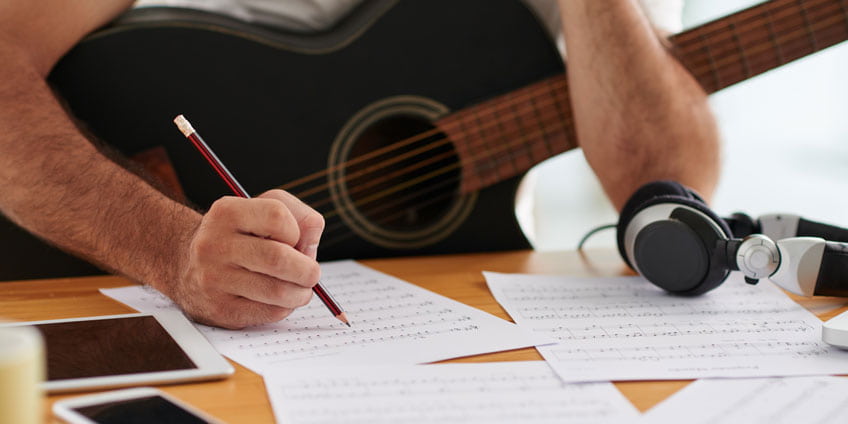 Well, lyrics really matter. It makes no difference what tune style you prefer (pop song, hip-hop track or indie), lyrics of your future creation is the most important constituent. Lyrics composing is defined as the most exciting and frustrating aspect for every songwriter, especially for freshmen with tiny or zero experience in that. However, follow the next rules to succeed.
If you have at least some clear image or the idea of what things you are going to describe in your song, it already sounds great. Take your notebook and point out exactly what you desire to talk about in your lyrics. Try playing that idea with the rhythm and some structure of all your words. Your key goal is fitting the words around your tune.
To write perfect lyrics, make some set of questions that logically come out of the title. Ask yourself what commentary you are eager to leave concerning your title and analyze what things your audience would like to get out of your words. A question list may contain the following aspects:
What is my title about?
What kind of feelings does it cause?
What should happen next?
What is the result of some situation?
The above-mentioned list serves as a skeleton for some more questions in your song. Write as many questions as you can and, consequently, in your mind, there will appear ready-made lyrics.
Fix Every Moment of Inspiration and Write a Song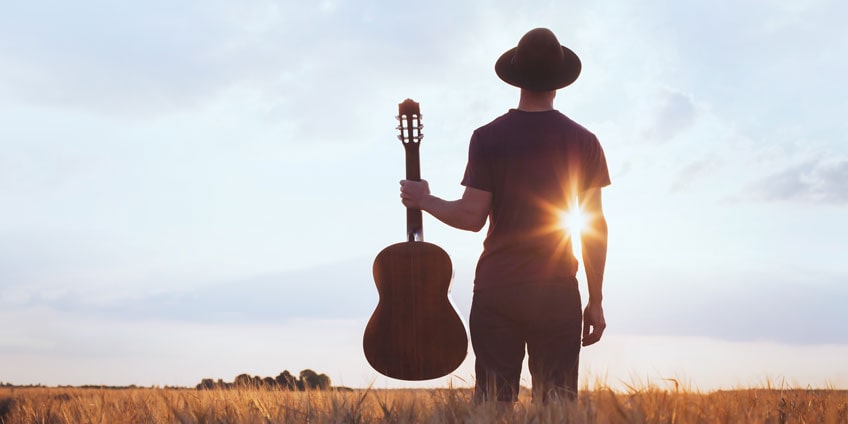 Inspiration drives the progress in any sphere. Especially it works in the songwriting process. People are looking for inspiration everywhere and, at the same time, inspiration may come just out of the blue everywhere.
That's a terrible situation when something brilliant comes to your mind (it looks like a killer hit) and you realize that you forget what it was about some hours later. Take your notebook and some pencils with you everywhere (even if you are going to take a bath). It is a clue to success when a person makes notes of their amazing ideas while they are fresh in their mind. Well, it doesn't matter at all whether you record some pieces of inspiration in your phone or scribble on a napkin in some cozy cafe.
When you continue working on the writing of your song, you will get extremely satisfied with the fact you have your written inspiration to write a real masterpiece.
Mind Personal Experience to Write a Song
Tragic love stories, loss of the best friend, falling in love with someone's boy- or girlfriend, the greatest success/failure in your life, etc. may serve as wonderful inspiration to write songs. It may sound quite obvious but the most incredible songs in our history reveal some personal positive as well as negative experience in something.
For sparking their creative activity, songwriters recollect their greatest real-life situations and traumas. As usual, recollecting some event awakens a full specter of feelings that you experienced that moment and words to express that on a sheet of paper are found automatically. Nostalgia for something inspires for creative activity. Put the most wonderful or terrible memories into a song and write it as any audience likes sincerity and true life stories.
Take a Short Break to Write a Song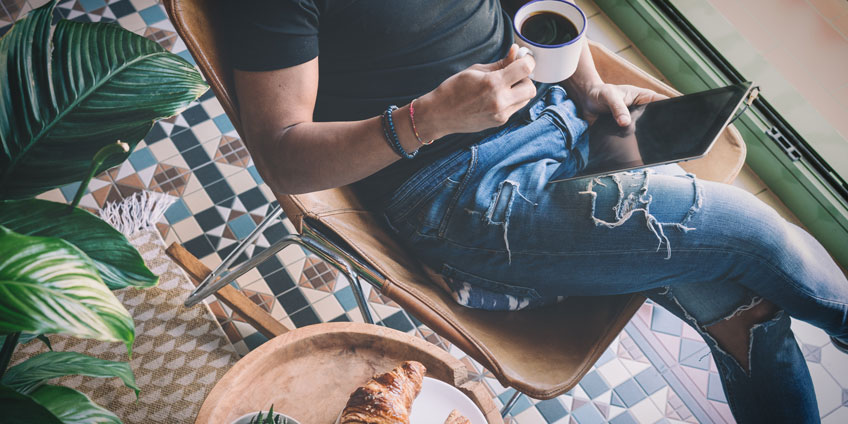 To write songs as well as any creative activity is considered mentally tiring work. It needs constant attention, concentration on some point, great obstinacy, and unmerciful assiduity. Note that a real chef-d'oeuvre never appears as easy as you would like.
Creative personalities should avoid burning out. Make some ten-minute pause away from your notebook with lyrics or musical instrument. Such an effective break will definitely refresh your mind and prevents it from getting too clouded to discover new ideas you are looking for now. Never get hurry to finish a song as soon as possible. Your future fans will not worry whether this song was written for several days or several months. The most important thing here is the beauty of the final product.
Write a Song Forgetting about Overthinking it
Some people may treat their work too self-critically. The key word here is "too". In case you criticize your creation too harshly, note that it may never get finished. This time you should be guided by logic for making some reasonable judgment of your song.
Behave carefully and consider every aspect of a new song. Stop worrying too much and let your audience make a decision whether it is a masterpiece or ordinary pop stuff. Over criticizing is the worst enemy of any songwriter. Take a break and relax. Come to your song in half an hour when your inner critic calms down and you will start taking things as they are.
Ask your Friends' Opinion about a Song
It's natural when songwriters feel frustrated concerning how good or bad their song seems. Even professionals whose songwriting activity is a part of their daily routine state that it's really easy for them to lose sight of whether their song a hit or some failure is after they have spent much time composing, changing, and analyzing it by themselves.
Find some expert you trust or better ask your soulmate or some good friends to give a sincere opinion about your song. It should be some person whose point of view is highly valued from your side. Ask this person to critique your song.
Most probably, you will discover absolutely new things about your song concerning some aspects you would never notice on your own when you write. There appear some fantastic opportunities to get a really great insight into what ways your song could be improved.
Note that you shouldn't play a song for people (this concerns our nearest and dearest) who may feel really afraid of hurting their feelings. All you need here is some honest feedback, not just some artificial appraisal.
Never Get Afraid to Fall on Their Face about a Song
It's natural that people make mistakes while inventing something. Songwriters are not the exception of this rule. You should know that if a person makes efforts failing many times but struggling, again and again, they will definitely succeed soon or late.
There doesn't exist some magic formula when they write incredible songs that quickly become mega popular. It's just some combination of extremely hard work, talent, and great ambitions. Commitment to success actually brings that.