Student Adulting 101 - Life Organization Tips
on 05/07/2019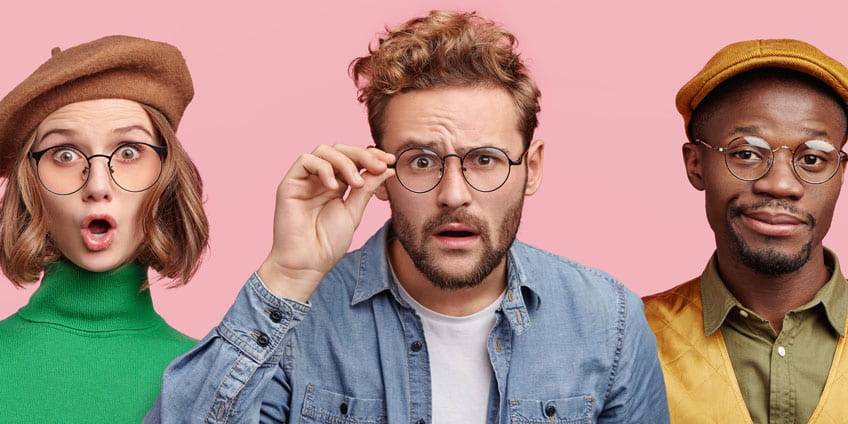 Being an adult comes all of a sudden. As the adulting college life begins, the structured life created by your parent disappears, and you face a totally opened space. Of course, no one will tell you to do your homework or to make your bed. And as the clutter and stinkiness amplify in your dorm room, you feel less and less control over your life. You don't know how to finish an assignment and what the heck to do with your life. Don't worry. Today, this situation is common even for people in their thirties. Adulting is hard. Let's just accept it and see how we can make the adulting life in college more organized and fulfilling.
The internet community is flooding with adulting memes. The phrase "I'm not adulting today" became the motto of procrastinators and developed in a variety of interpretations and GIF images. What is adulting, indeed? Why it gets so tough to be a responsible and confident person when, chronologically you are, quite certainly, not a kid anymore?  
Kelly Williams Brown is a writer who popularized the word "adulting" in her book "Adulting: How to Become a Grown-Up in 468 Easy(ish) Steps." She was the first to loudly address the issue that it's totally okay to feel lost and insecure in this big and uncertain world. Yet, we absolutely shouldn't feel guilty about the things we didn't manage to do, low grades, fast food, and an unmade bed. At the same time, while being an adulting student, it is not enough just to put the know-it-all's face and act like you know that Macroeconomics in every detail.
On the contrary, adulting means you should learn how to self-organize to have an excellent academic profile and reach the dream job right after college. And you know how hard it is, especially for a young adulting student having to deal with all the challenges of a really messy, complicated, and unorganized adult life. Nevertheless, let's focus on the things we can handle and master that adulting with a short list of these simple hacks. Because, as they say, adulting is not something you are; it's something you do.
Set a Successful Adulting Students' Schedule
The adulting trend shows that young people are no longer in a hurry to grow up. If it was typical for our adulting parents to marry in their twenties, and have three kids by 27, modern youngsters may not even end up in a relationship by this age. The adulting question of the person's own path in life becomes more vital during these years. That's why we meet so many transferred, dropped out and back to school again kinds of students everywhere around. Naturally, as a student, you constantly get multiple tasks to perform and have to memorize a lot of material to make it through the exams.
The truth is, if you learn how to organize your studying schedule correctly, you will manage to get high marks and keep up even in toughest disciplines. As a result, you will experience much less anxiety, you won't have the trouble of what to do if you drop out, how to pay off your student loan, and won't skip from one major to another trying to decide which one is your true calling. It is absolutely real to get things done and be successful while adulting without sweating blood over every homework.
So, what do you need to do to study like the best student in college? The right schedule is the name of the game. We recommend you to discover your own most productive hours and stick to that. Think about this. When it feels easier to do your homework? Maybe it's right after class or later in the evening. Or else, you could be one of that rare early birds who is best from 5:00 to 7:00 am (when no dorm neighbors disturb)? Find the schedule that works just for you. Also, it's worth planning some particular amount of time to spend on hard work and the rest afterward.
Split the studying sessions to 90-minute or 50-minute blocks with a compulsory relaxation between them. Good news - during your break, do whatever you want. Listen to music, dance, burn a scented candle and mumble mantras, cook fajitas, chat with a friend. And yes, you can check how many likes did your latest post on Instagram get since the previous break. Speaking of schedules, it is also better to have it in either digital or paper form (more about online planners and bullet journals - later in the article). Not only your classes timetable should be there. But also all the homework, volunteering, extracurricular activities, laundry, free time planned monthly, weekly, and daily. When you clearly set up what you need to do and when all things become not that overwhelming. You will surely feel less fatigue and pressure, which also leads to better academic results.
Another priceless time management tip for a college student is not to cram it. Trying to attend all classes, do the pile of homework, work part-time, and engage in every extracurricular program is physically impossible. Instead, develop study habits that don't hurt your health and mental state. Necessarily, sleep 8 hours a night. Do homework in different settings to keep yourself motivated and fresh-minded. Study with friends to make the memorizing process faster and more productive.
Adulting daily routine for college: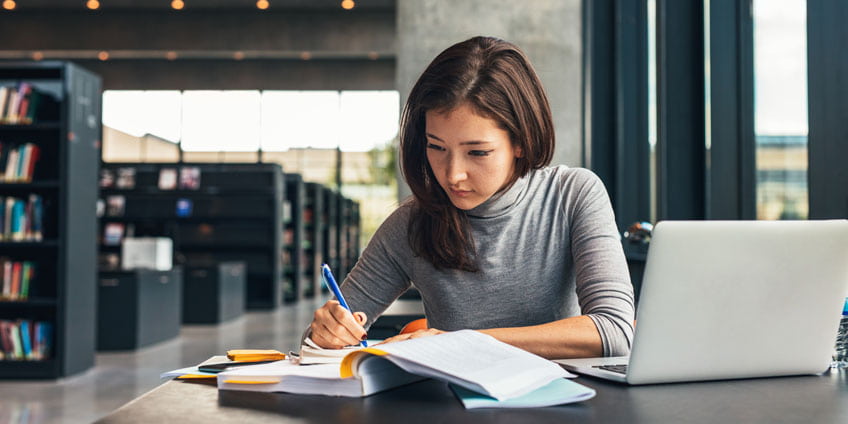 discover your perfect studying hours;

decorate a motivational adulting workspace;

don't force yourself to multitask;

don't do all the homework at one session;

study with friends - the best way to learn is to teach somebody;

have a good sleep;

take notes during lectures - they will be easier to prep for tests later than rereading the whole textbook;

study similar information in different locations;

stay away from electronic devices before bed to fall asleep quicker and feel better in the morning before early class or exam;

don't use the Internet for other adulting purposes than study when you research or edit the essay online;

reduce adulting stress and improve your mood with recreational activities like meditation, cycling, long walks. Video games and films are also good;

prioritize study that needs immediate attention and leave less important adulting tasks for later;

set personal adulting deadlines to keep you focused and moving towards your goal;

don't try to finish the big assignment on one sesh. Divide the homework into smaller, one step at a time parts.
Motivational Study Space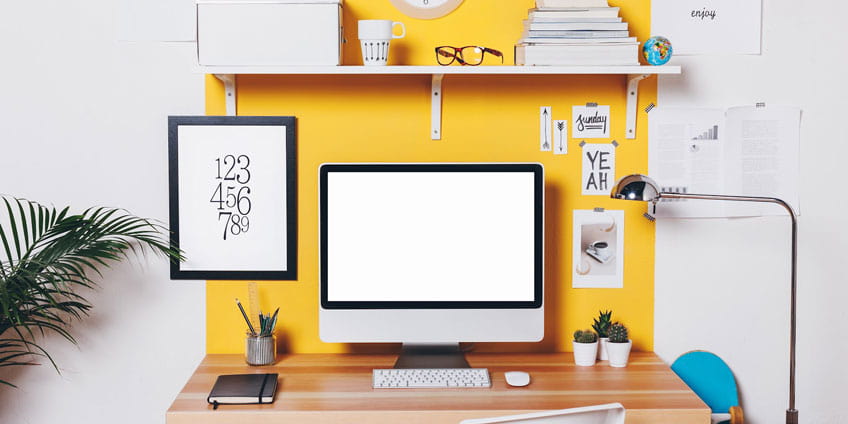 Another secret of how to focus on adulting studying is organizing a special study space where you can concentrate, create, and nothing distracts you. You should be comfortable enough in this place, yet not to the state of wanting to relax. One golden rule of adulting is that this very special workspace should be fitted exclusively for work and nothing else. This means that all the distraction like fiction books, computer games, snacks, monstrous music speakers with a party mode, student yearbook, and the phone should be put out of your sight. Somewhere hard to get and hard to even remember they exist.
There is another adulting way to make your study place look inspiring and inviting. First and foremost, clean the desk! So it will be nice to look at and comfortable to sit there for some time. Next, take care of the lighting. The natural light is great, but when you don't have enough of it, it's not a problem. Just put a table lamp on the desk. Remember, warm light is better for getting creative, whereas cold light is the best for concentration. Also, make sure you don't make it too dim or too bright. Instead of buying a few bulbs, do it like an adulting one! Why not save some cash and buy a lamp with a dimmable bulb. By doing this, you'll be able to adjust the lighting however you like it.  
Place your personal adulting schedule, goals list, classes timetable on the wall to keep you in the know and feel the control over your life as a student. Make sure all textbooks, notebooks, and index cards are within reach. Add to this a pad of clear paper to write down notes and distracting thoughts, draw schemes, and jot down rough drafts. Then, make it fun! Use stationery that you like to keep the adulting studying process attractive for you. A small live plant will also fit in the space creating a spot for your eye's comfort in case if you don't have a big window with a nice view near the desk.
Environmental factors influence a lot of our behavior. If you choose a more ambiguous place to prep for exams, even while adulting, you'll most likely be tempted to slip into the state of least resistance. So, if everyone else is having fun, it will be nearly impossible to concentrate and study effectively in an adulting way.
Here are some other great ideas where you can find an isolated space for effective studies:
library

coffee shop

academic basement

park

common study area

student center lounge
By altering the locations, you will see how your memorizing abilities will improve and how your attention span will extend. Keep in mind, that the location you choose should feel convenient - not only the lighting but also how you sit, how much room you have around, what is the temperature (the optimal is 77 degrees Fahrenheit or 25 degrees Celsius). It should be quiet enough with minimal foot traffic, which is quite hard to find in public places. Even though, we are sure you can carve out a little nook in the library for adulting and, additionally, pick hours when most of the students are out somewhere, and the place is relatively empty. If you are lucky enough to land in a completely quiet and isolated room, this could also turn into a drawback. The total silence puts tension in the air, which also distracts you. To avoid the loss of productivity, find some study music playlists. It is better to download and listen to them offline. You know why.
Meal Preps for Busy Students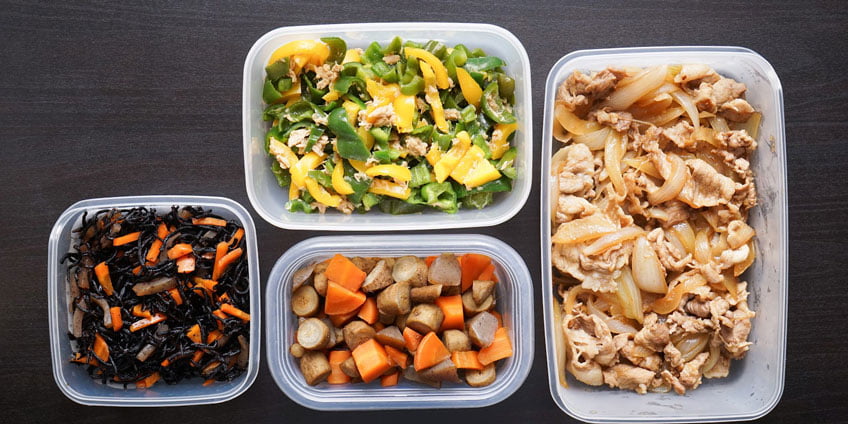 With the start of an academic year, you begin to understand the whole burden of adulting food-wise. No more does your breakfast and dinner magically appears on the kitchen table, served and fresh out the oven. Yes, the times when mom did it all were great. But now, honestly, when was the last time you cooked something in the oven, and it wasn't microwaved meatballs ready-to-cook?
Your adulting college schedule might indeed leave the minimum time to cook, which you won't be spending this way, of course. Most adulting students prefer eating a lot of snacks, take-out and street food. While those might be tasty, they hit your budget and health. Whereas meal preps are a wonderful choice if you are hungry or there's no time to waste. You can make it taste just like at home, you can seek for your own adult tastes and adjust to your nutrition plan.
Moreover, you won't have to throw away the wasted food that you didn't manage to cook during the week. Last but not least, meal preps save you loads of money that you can then send once a week for a giant night-out! Here are some tips for preparing easy, cheap, and delicious meal prep for students!
Learning how to meal prep is something that you should treat as an adulting experiment. You don't have to stick to it, just try different approaches and see whether they work for you or not. We recommend you to estimate your adulting food budget at first. How much do you spend weekly? And how much food do you need in regards to how much you eat and your diet requirements? Now count it all grocery-wise. In the future, you might try to gradually cut down this amount if you need to save some money. As you will see, healthy food in reasonable amounts goes for much cheaper than your everyday pizzas. Just choose a meal plan that allows for some meal prep in advance and plan your food budget for the week ahead. You can check out easy recipes for college students online. They are effortless to make, taste good, and don't cost a king's ransom.
Benefits of meal prepping:
helps you not to waste ingredients and money

more control over your diet + food for fun

you can prep not for everything - e.g., just for lunch and dinner

perfect when hungry

perfect when no time

good balance between healthy and tasty
Obviously, to meal prep, any adulting student will need some containers for it. Choose tupperware from food-grade plastic or glass mason jars. Lunch bags are also a good idea. Some of them come with inner heating or cooling device. If you wish to go for a smaller bag, you need to choose food that won't go bad after you carry it around all day. Moreover, it should be a prep bowl that will taste great even without reheating. Thankfully, many adulting college recipes are made specifically for such a purpose.
What kitchenware to have for easy cooking as a student? It's easy:
You don't have to take a long walk to the common kitchen in the dorm or wait when it's free and clean.
Buy just enough for storing separate products in the fridge and meal prepping for a study week ahead.
They say
it's not healthy to keep in the room, so it's better if you put it further away from the area where you sleep and relax. Yet, there are tons of quick and healthy microwave recipes for adulting that you'll love.
They are great for frozen portions of fruits, veggies, meatballs, and more. One-serving pieces are the fastest to cook!
Mason jars are like Jimmy Choos for girls. They have established a trend for aesthetically pleasing salads that are also soooo good.
It's time to save on all those lattes that you buy for take-away. A little coffee machine on the nightstand or on the desk comes useful during the nightly study sessions and early mornings before classes.
Literally an adulting must-have. So you won't wonder where all your chicken breasts disappear and always will have your favorite meal prep within reach.
With that said, let's get to the most interesting part for adulting students. How can you meal prep? What food to buy and how to prep it for a week? Let's get down to business.
You can make a list of your own adulting ideas regarding what products you can store for a whole week. The food that you can prep and the food that won't waste if you don't cook it this week. Here is a list that we've come up with.
IN THE FRIDGE
cheese (goat, cheddar, parmesan)
eggs
fresh veggies
fruits
pre-made food
overnight oats
dairy
drinks
IN THE FREEZER
non-starchy veggies (cauliflower, spinach, broccoli)
frozen proteins - burgers, meatballs, fish and meat fillet, shrimp (batched!)
fruits - try ziplock portions for oats and smoothies
veggie prep ziplocks for soups, chili
IN THE PANTRY
beef jerky
deli meat
single-serving packs of nuts
dried fruits
protein bars
wholegrain snacks
canned fish/sea products/meat (tuna, sardines, salmon, oysters, stew)
canned veggies (tomatoes, corn, chickpeas)
hummus (the cheapest dip that'll make you full)
coconut milk
olive oil
soy sauce
mustard
hot pepper sauce
For easier prepping, assembling, storing, and eating, go for recipes that require no heat up or no cooking at all. They do exist! Think of masons jars salads that we mentioned above. What you do is you put some sauce or dressing at the very bottom (don't mix the salad when done!), and then put layers of everything that you want this salad to consist of. You can get creative - mix tastes and textures! Add some grains or beans to make it fulfilling and energy-giving. Add some proteins like meat or fish because as an adulting one you study a lot, you need them. Now, add some veggies: lettuce-like salads, tomatoes, avocado, cucumbers, carrots - you need vitamins, too! To add some more taste, go for sweet corn, goat cheese, nuts, olives. Almost the same algorithm applies to prepped tacos. Put the cooked stuffing in the bowl (like fried meat, corns, beans, veggies), take some sauce and a couple of tortillas with you. The adulting lunch is done!  
If you want to meal prep for the week ahead as an adulting would do, it might appear easier than you think. It's like adulting for dummies. The ideal healthy lunch, dinner, or even breakfast must consist of a few types of food: carbs, protein, nutrients, a little fat for digestion (if you have another diet, go for your own plan). Thus, you can boil some grains beforehand (quinoa, wild rice, millet, what else do you like?) and serve it in your daily bowls. Next, prepare your proteins. On your Sunday adulting night, have some free time to make it all be free from cooking for the rest of the week. You can stew it, slow-bake, steam, fry, roast, glaze - anything you like. You can also pre-cook veggies like broccoli, asparagus, sweet potatoes, etc. Use these ingredients in the bowl as well as in the mason jar, make sandwiches, burritos, vegetarian wraps, noodles, pasta bake.  
If while adulting you still dream of Nutella mornings, consider sweet breakfast. There are so many adulting options. Prepare overnight oats with pre-made additions. Use a mason jar or a bowl. Put there some dry oats, then dried or frozen fruits, chocolate, coconut chips, berries, nuts, tropical fruits, cottage cheese, natural sweeteners like honey, etc. Freeze it. Make single servings of fruits for instant smoothies. Another adulting superfood option is chea pudding, which is also to prepare overnight.
How to Organize Adulting Laundry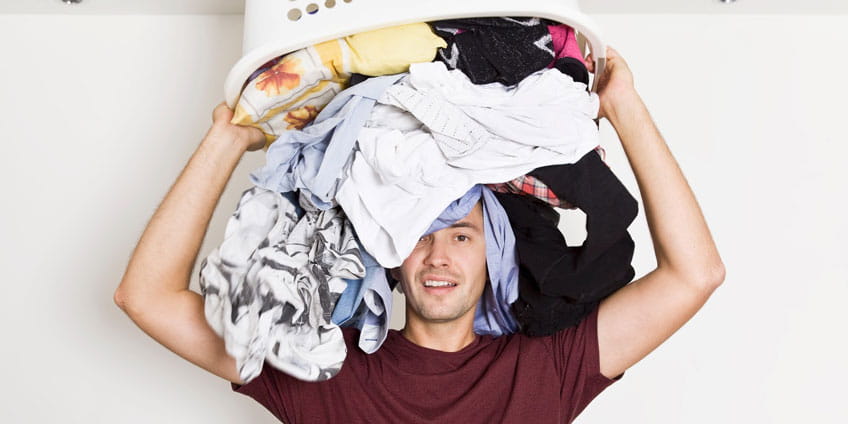 Now, when you are organizing your adulting life on your own, you surely understand what does adulting mean. Chores. It seems like your life is fuller with monotonous housework than ever before. And the laundry part tends to be the hardest because you need to know a whole set of rules to make it right. Many adulting students end up throwing away clothes that don't pass the "sniff test", which is okay for rich kids. But if you like your signature hoodie and just don't want to get rid of that pair of jeans, we've got some easy-to-follow adulting laundry checklist for you.
1) Sort by color.
2) Sort by fabric.
3) Read labels.
4)Fight stains
It is convenient to have separate baskets for white and color or for delicates and other clothing, so you don't have to spend much time sorting it out. If adulting, better safe than sorry, that's why reading labels are also highly important for adulting people. Even though you may find that some stains won't remove even after you wash it. Don't hesitate! Go online and check for some adulting stains fighting secrets - they really work! For some delicates and sturdy stains, oxygen power is the greatest staple to keep in your laundry basket. Additionally, a detergent booster will keep your clothes cleaner and make it look good much longer.
Also, you need to check if your clothes are okay with dry cleaning. Before doing it, you might want to clean the lint trap to keep it fresh and clean. For lingerie, swimwear or socks, mesh bags are the name of the game. It's adulting! No more missing socks or bras hooked on t-shirts! Before stuffing clothes and slamming the washing machine door shut, make sure that you unbutton shirts, hook up bras, empty pockets, tie up strings, turn colored clothes inside out, separated by color and fabric. Finally, don't keep the washed clothes in the machine for hours. Not only it is bad for your shirts and jeans but also for the adulting laundry etiquette. To avoid wrinkles, hang the garments on racks. If while adulting, you are not very good at ironing, buy a portable steam cleaner or wrinkle-release spray.
For not collecting piles of bad-smelling clothes in your room, schedule the adulting laundry days in advance. Choose morning times when the laundry room is relatively free. Students don't like adulting in mornings. Another great option is to organize adulting laundry nights with your friends - pizza, films, pump-up playlists, please! Make it fun to escape the feeling of a heavy adulting burden of doing chores.
Top Mom's Advice for a College Student (When She's Not Around)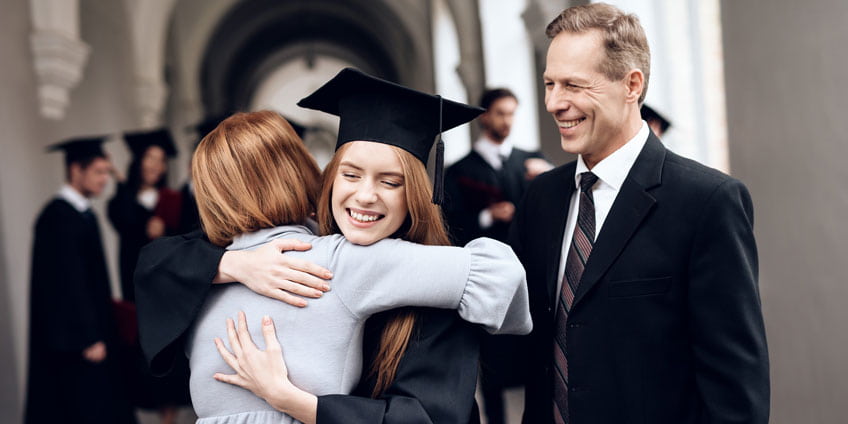 It's okay to feel homesick sometimes even if you've gone far from the freshman year. Now when we think of it, it seems like the ultimate guide to adulting wouldn't be full without the mom's advice on adulting. Nobody will tell you to clean your room and pick up dirty clothes for the nearest few years. Most likely, there won't be a person to cook for you and to check if you've done your homework. We know it's something that infuriated you before. But, honestly, it's sometimes that we all miss in our adulting college life. That's why you might need these adulting tips some day.
Top 5 Adulting Mom's Tips if You Feel Sick:
Stomach - take absorbent carbon and drink lots of water

Fever - take Ibuprofen or Aspirin, and apply a cold compress

Cold - eat chicken noodle soup, stay indoors, sleep

Flu - saltwater gargle, warm lemon tea, Ibuprofen, nasal drops, anti-cough medicine

Stress - soak up the sunlight, take a walk
But before you catch a cold, your mom would definitely tell you to wear a hat and a scarf when it's cold outside. And wear that winter boots even if they don't fit your adulting #ootd today.
Aside from homework, making a bed, and coming home not too late, your mom would surely tell you to be a good person when adulting. Of course, when being an adulting teenager, it's natural that you are going to want to be rude to people sometimes and escape commitment. But as time goes by, you want to have more control over your reaction and actions. So behave and remember these golden adulting mom's rules about good manners.
Top 8 Adulting Mom's Tips on Manners:
Be on time

Show appreciation

Build bridges instead of burning

Don't be too open on social media

Use your phone less

Don't force your views on someone else

Operate with facts when you speak

And listen to the other side
Feeling comfortable with who you are and knowing your path are other big challenges of adulting life. Oftentimes, parents can't decide whichever road is the best for our lives, but that's not their fault. Be confident that you can change anxiety of adulting to the confidence of knowing who you are. Here are some more adulting tips.
Top 8 Adulting Mom's Tips on Being Yourself:
Listen to your heart

Love your body

Respect yourself

Take care of your health

Work on a resume and build the career while studying

Be okay with being alone

Act like you've been there

Craft your own life meaning and stick to your beliefs
And when adulting today, make your bed! Just joking:) But really, you should focus on something you do control in your life to pass the whole adulting thing effortlessly. Clean room and opened space around you gives the tone of success to your adulting life. Then, if you manage to organize your personal space, you can organize your life!
Most importantly, don't try to answer the main question of adulting: how to become a grown-up, in your twenties. As the ideologist of adulting techniques, Kelly Williams Brown says, "Adulthood will be ready when you are." Feel free, not lost. Another wise thought is that abundance comes when you have the strength to endure a difficult life, and it's unlikely for anyone to move forward when living an easy life. If you face adulting challenges, be sure, this is gonna be a good life!
And call your parents!