What Should I Study in College - Knowledge That Will Be Useful In 2019
on 10/08/2018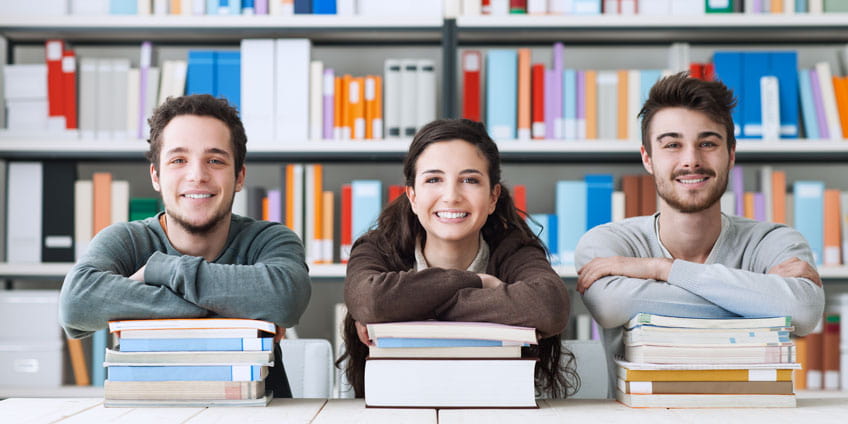 From the moment we learn to distinguish words, we start hearing this magical "study." Study at home, study at school, study after classes and so on. As if someone is constantly whispering into our ear: "It's for your own benefit, life in college will be awesome." And we grow up with the intention to go to college and proudly call ourselves students. Everyone tells us it's going to be hard, but we don't want to think about how to study in college, we just want to study there (whatever this verb means for you). But when it comes to making a final decision, our bewilderment cannot be overstated.
It's utterly impossible to understand what you should study in college if you are not sure whether you'll like a particular profession, isn't it? You may try some occupations though. For instance, if you dream of becoming a professional writer, you're free to write as often as you want. But what if you consider law and don't really know whether you will enjoy it? Well, we have prepared this article specifically to help you simplify this complex process of choosing what and how to study in college. Some tips on how to discover your passion and the upcoming professional trends are covered below.
Know Thyself
Before proceeding with the article, analyze your personality. It is a time-consuming but extremely interesting process which will be of great help in choosing the subjects you want to study in college. Take your future seriously: make a list of your skills and talents, define the subjects you excel at, describe the best working conditions, learn your personality type (extravert or introvert) and so on. A clear picture emerges when you carefully analyze your preferences and innate gifts, so be passionate about it: there is nothing more challenging than discovering who you are.
If you can identify with the person you are today, you are sure to know what is yet to improve, and this may be the answer to what you should study. If you still doubt your inner passions, make the process more fun. There are lots of quizzes on the Internet where you can get some future profession options in no time: a bunch of multiple-choice questions, and you're done. Of course, the result is not necessarily true, but you can at least have some guidance about how to combine your talents with your college major. Finished exploring yourself? Then it's time to dig even deeper and see how the world is changing.
The Concept of Useful Knowledge
Before discussing trendy professions that require a particular college degree, let's go in for some practical philosophy (it's already an option for your studies, hm?)  In general, we do not dive into the definitions of common things. I mean, you may struggle with giving a definition of the word "word" even though it is used quite often. The same goes for the concept of knowledge. Knowledge is people's main goal in college, and everyone stresses its importance, but what does it mean? Is it merely a set of information or does it have a deeper connection to an individual?
Merriam Webster Dictionary defines knowledge primarily as the condition of knowing something, usually through association or experience. Therefore, the main aim is to understand.
In the refined societies of the past, the power of understanding outweighed the skill of applying. Until the second half of the 18th century, it was considered necessary to master Greek and Latin, quote Ancient philosophers and read Virgil as many times as one possibly could. However, with the rapid development of science, traditional education started to lose its overrated value.
Scientific principles, having become the chief focus of the society, left "polite learning" (i.e. education required to fit in the society) far behind. Useful and applicable knowledge is now in the limelight! In other words, your practical skills, which should keep up with the technical progress of the world we live in, secure you a better position than the ability to cite Plato, no matter what you choose to study in college. Which knowledge is regarded as useful in 2019? Let's find it out!
Digital Literacy
Technological development already suggests that you should be tech-savvy. In today's world, there is no profession that somehow does not involve using computers or the Internet, albeit connected with totally different disciplines. I believe, digital literacy may soon surpass handwriting, and the more you know about how the devices and social media apps' functionality, the wider range of opportunities to learn you will have. Thus, either study how technology functions on your own or do it in college – this skill is indispensable either way.
Communicative Skills
Whichever interests you have, communication with people is definitely unavoidable. It is the essential element of working in a team and exchanging information. The knowledge of how to approach people, reach an agreement or find a solution in a tricky situation is necessary during all periods of your life, whether you study in college or work right away. If you're social, you're going to hear the newest information, share your ideas and constantly move forward in life – not only at work. While studying in college, communicative abilities will also come in handy.
Creativity and Critical Thinking
With everything getting automatized, creativity is the sole thing robots are not endowed with. And the rise of technology only means that being creative is your personal and strategic asset. Critical thinking, on the other hand, wakes your power of creation. And if you develop both of them, you're going to show excellent results in any field you choose.
We've made this short list just to make your stress go away: if you are worrying about doing nothing related to your future major in college, you should work on your personal skills. In fact, it is an investment bound to succeed, as you will need these qualities regardless of what you choose to study.
What to Study in College
So, let's get down to business. Which fields are going to blossom out with numerous opportunities of self-development and countless job positions? And how to study in college and ensure a stable career at the same time? To begin with, the reasons of new jobs appearing may be grouped into four categories: technical breakthrough; cultural, economic and social changes; global threats; a human desire to learn more.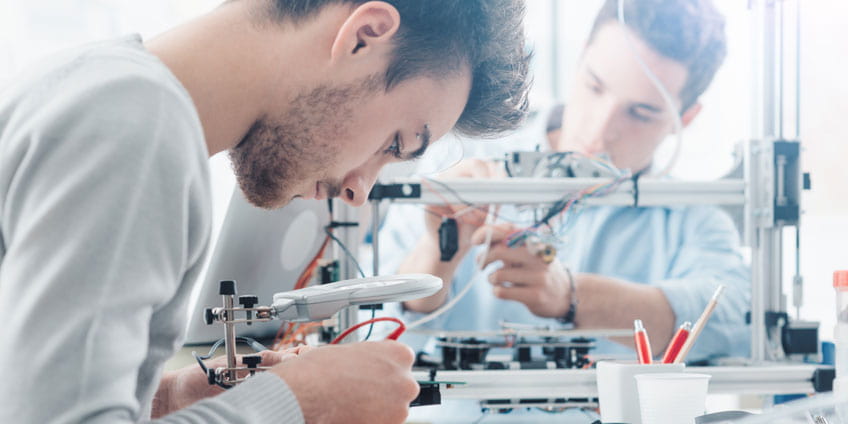 Based on the aforementioned characteristics, you can already narrow down the list of what to study in college. For example, if you enjoy exploration and getting to the core of complex matters, you may become a space explorer or a visual designer. You can work with software and develop new apps, create marketing strategies, etc. Frankly speaking, it's best to define your chief objective in life and understand what energizes and lights you up from within. And then, you can at least understand the direction you need to take. The list of professions that will be the most in demand in the future is here to help you.
Statistics
According to the decline and growth of job positions in the period of 2015-2020, World Economic Forum survey has shown that the most popular professions are going to relate to the fields of business and financial operations with a 492 jobs-change-increase in employment outlook, management (416), computer technology (405), architecture and engineering (339), and sales.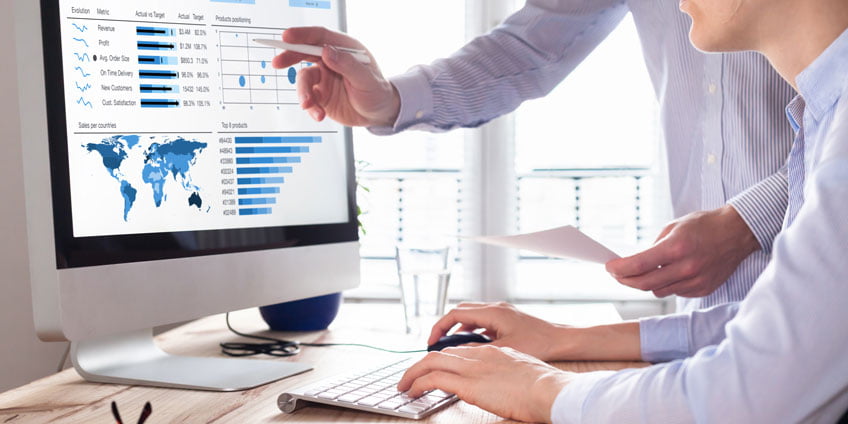 Business and Finances
Finance accountants and auditors will be in demand along with the personal financial advisors. The ability to collect and analyze financial data helps companies keep their income evenly distributed between all employees as well as have something to invest. If the company faces a crisis, senior managers will be able to develop transformation strategies for them to stay competitive on the market. In addition, personal advisors will simplify the process of accumulating and distributing funds in families and small business.
Management
Company's management will become as vital as its output. With the technological tendencies developing really fast, skill and organization management will be needed to implement all the innovations in the employees' working routine. Partly, you learn how to organize yourself when studying in college but managing the progress of others is different. Because of that, government and politics will also play a significant role in adjusting the latest inventions to the modern people's needs. Accordingly, law and public relations are the majors to consider for your college major.
Computer Technology
Software developers, information security and data analysts, computer programmers and front-end developers – whichever profession related to the computer field comes to your mind, there is a high chance of them being highly popular as college majors to study. People in this field have a wide range of tasks: to operate, to program, to create, to check and, nearly forgot, to revolutionize the world by combining the previous achievements with innovative breakthroughs. In addition, by studying computer-focused subjects, you will become a god of digital literacy while still in college.
Architecture and Engineering
Creativity is a clear sign that you won't face unemployment, especially if you are talented in visualizing. Such creative fields as commercial and industrial design, nanotechnology, 3D-printing, robotics, and biochemistry offer a wide scope for your imagination and employ your scientific or artistic skills at the same time, while still giving you a chance to change reality with the discoveries you make. Colleges with science and visual majors, therefore, are just for you.
Sales
With more and more brands popping up, there is an increasing need for those who can present the product and persuade a consumer to buy it. Besides, because of the global relocation to mobile devices, sales experts who are good at mobile advertising will enjoy a win-win in the nearest years. Sales skills are better learned in practice than in college, but you need to study marketing and economics in any case.
Ecology
Have you heard that there is an island of trash the size of modern France floating somewhere in the Pacific Ocean? Eco-enthusiasts have even created a passport for the citizens of the Trash Isles. Due to the burning problem of environmental safety, ecologists are needed to help people realize how they can save the planet. And besides, it is a very noble profession, as you're working both for the community, science, and the future of the next generations. Thus, instead of deeming ecology boring, you may actually search for prestigious colleges to learn how to help our Mother Nature.
Conclusions
To sum up, the choice of your future profession is not such a burden when you have so many options. Of course, it is rather overwhelming to be faced with the necessity of choosing what to study in college, but considering that a great deal of the aforementioned professions is interconnected, you have no chance to fail. Whether it's business, technology, management or creative arts – you are bound to succeed if you are passionate enough. Studying in college is merely the beginning of your career, right? So, be wise and do not overcomplicate things. Just follow your heart!