Five Techniques of Creativity for Students
on 11/01/2018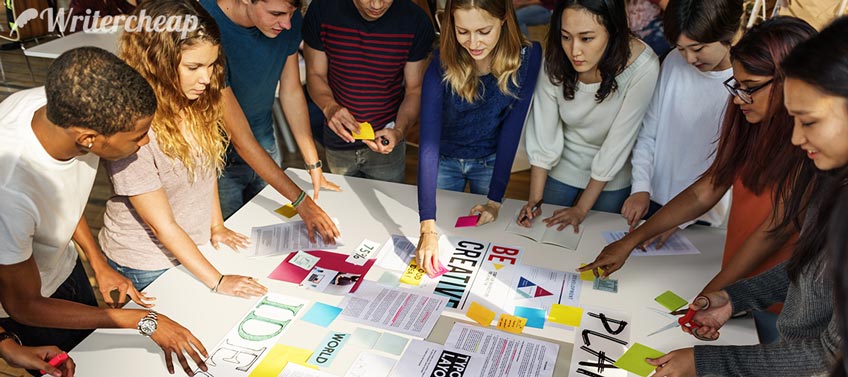 If you urgently need to think out something unique or to find any creative solution, creativity techniques are able to help you. Every technique described below is based on certain principles and criteria, so not all of them will fit you. But if to master them, one can adjust techniques according to different needs.
Some techniques are created for solving a certain problem, other ones are for developing creative potential (you won't solve a problem, but "charge up" your mind).
1. Challenge

Choose a complete problem or its part that needs to be solved. Make a challenge, doubt such categories:

For example:

"Apple" was quite successful to doubt a thesis that phones are obligatory to have buttons. Low-cost air-companies crossed the borders of cost by making flights cheap, though nobody thought planes to be a low-budget transport before them.

Idea and Concept;
Suggestions and beliefs that are thought to be undisputable;
Throw away compromises;
Borders you can't cross;
"Impossible": imagine it becoming possible;
Replace "or" with "and";
"Holy cows" never argued before;
Functions.

2. Day in the Life

The point of this technique is in "living through" the day of a certain person or group of people:

This technique helps marketing specialists understand who their clients are. It will be helpful for anyone who wants to build a fire of his or her imagination.

Choose a target person or group, class. For instance, students.
Study them (if it is possible). It can be useful to provide a research of a target group. Find out how its representatives spend their regular day.
Describe a typical day of a person or group. Write a short story, divide it into chapters. You can make it more realistic by adding names and life details of characters.

3. Modeling

Use this technique as a break in your difficult thinking activities.

This technique is good to develop kinetic skills which are forgotten by many people. This refreshed experience can help you get new ideas about any problem you are busy with.

Gather Materials: wood, glue, "Lego", paper, etc. Instruments like scissors and stapler will be required here as well.
Think Out Some Ideas: You do not have to be like Michelangelo here. Create something simple. Rely on your imagination totally.
Show and Tell: show models to other people and tell them about special features of your idea. Ask them what they think.

4. Forced Conflict

A "Forced Conflict" technique is used as a way to stimulate further creative thinking about the problem. Use it in order to concentrate on internal problem conflict, too.

Find the Point of the Problem: it is recommended (though not obligatory) for the problem to have some form of an internal conflict. For instance: staying healthy while having a sedentary job as a manager.
Create a Conflict Phrase. Create phrases where words fight each other. Two words are enough. Introduce a paradox or a poetry element: everything that will stimulate various viewpoints. For instance: "Energy ice", "Frozen flame", "Fridge chase".
Use as a Stimuli. When a person meets a conflict, he or she feels tension they will to reduce. This method stimulates your mind to generate certain ideas.

5. How to

 
Use this technique when determining a problem, in order to understand what you want clearly. Technique can push your mind towards a solution as well.
This technique makes a creative tension to appear. That tension makes your mind be busy with thinking out ways to solve the problem stated in the point. Pay attention to how phrases are perceived depending on their form:
The second statement is more intriguing it makes you think, while the first one looks like an order. In the second case you are focused on the solution; in the first one you concentrate on the problem.
Start Stating a Problem from "How to…". This is how you concentrate your attention on problem solving.
Present Ideas. Let them be stupid, the point is to get as many ideas as you can.
Make the Room More Bright;
How to Make the Room More Bright.