Student's Dilemma: How to Do Everything in Time?
on 14/01/2018
Do you want to lay on a sofa, to watch TV, to eat nuts and to be happy and satisfied with your life? Sorry, but only cartoon characters can allow themselves living like that. A life of modern humans has a crazy tempo, it is about numerous tasks and obligations, responsibility, job and studying. Here is what they all have to meet every day, especially if they want to reach new goals and better results.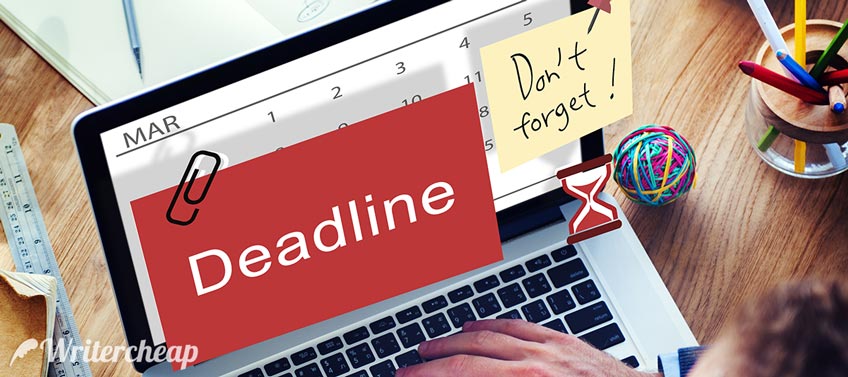 That is why a talk about doing it all in time is very good here. This topic is equally good to be heard by a first-year student, a graduate, a student who has freelance part-time job, or even by a school pupil who is about to enter to college. Everything you are going to find our from this article will help you put your responsibilities and private life to order, stop being a hamster in a wheel of endless alerts and deadlines, learn how to plan your day and even life to have time for everything and feel well.
Generally, the question about doing everything in time is quite big. When answering to it, one can say many interesting things. Still, our article will be limited by two parts:
Personal Time-Management;
Daily Schedule;
Let's move on!
Personal Time-Management
As we all know already, time is the most valuable resource one has (in addition to health, of course). But there is no way to get one's time back, so its value increases multiple times. Any human has the right to manage time not only as he or she wants, but can plan it that way there could appear serious practical use. Still, there are people who can do all their important tasks in time and still have free hours for rest and entertainment, and other people can neither do tasks before deadline nor allow themselves relaxing at all. But every person has 24 hours a day and 60 minutes in an hour. So why do things happen that way?!
The answer is banally simple: people who can't do everything in time, absolutely do not have a skill (or a wish) of controlling their time. Of course, nobody is able to control time directly, but everyone can learn to use it rationally (and control it that way). There is even a special discipline existing for that: time-management.
Time-management means accounting and planning your time. In this cane (if to mean one's personal time), that means accounting and planning your personal valuable time resource. Thanks to it, you can structure both your working and leisure time easily. But the greatest magic of time-management is that, you can work not "somewhen" in future, but here and now by planning and putting your weekly and daily tasks to the right order.
Many people think time control to be a business for rulers and leaders, but that opinion is wrong. Time-management is useful and can be mastered not only for job, but for home tasks as well. It will help young mothers watch after the child and still be in a great shape (that is about people with children in general); it will help students pass all their session exams and essay tasks in time without denying friendly meetings and romantic dates, etc.
Saying simply, time-management will be useful for anyone who wants to bring their studying, job, life and even relationships with other people to order; for anyone who wishes to become more effective, ready to work and successful.
If you want to know how to do everything in time, you need to understand the main principle of time-management. According to it, you need to measure your time not in minutes or hours, but in events and actions. That is the original time perception that can give you the feeling of full life and understanding how to live usefully.
Take the rule: spend your time on things you really need; on things that lead you to successes, goals and expand your limits.
Daily Schedule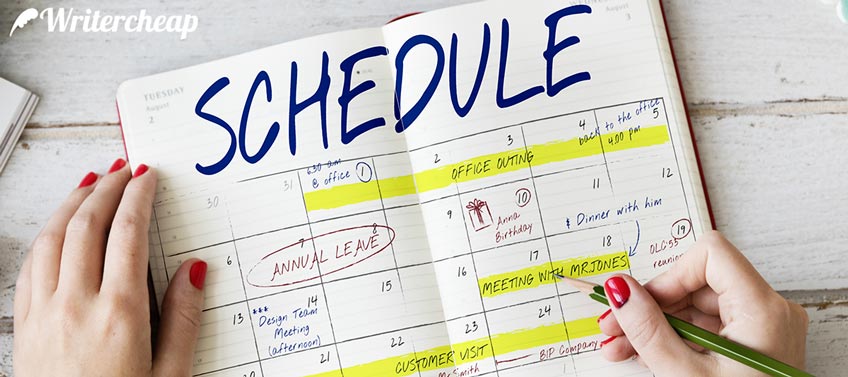 Planning one's day is the first step towards your successful time-management. You won't find any outstanding person, business-coach or social activist who does not plan their day.
If you already create some kind of a schedule for the upcoming day, that is fine. But your goal is to learn how to master composing your daily schedule, and to do that seven days a week. And this does not mean you will become a "slave of a diary". In fact, you'll get rid of multitasking, procrastination, and other pointless activities.
Tasks, plans and goals are better to be written down on the paper, or, if to keep up to modern trends, in the memory of your beloved gadget. By making notes and reading them through on purpose you'll keep all your tasks in sight and won't forget about anything. Plus, unfinished goals can become your unfinished gestalts: something, that won't let you calm down until you do it.
Another important moment in daily schedule creation is in dividing your tasks into more and less important ones. Eisenhower's matrix, that can be useful at high school, university, office, and private life, will be very helpful here. Don't forget to note the deadline for this or that task to be completed. You'll stop thinking about how to do everything in time, you'll just do everything in the right order and in time.
Here are some additional tips that will help you keeping up to the plan:
Try starting and ending every day at the same time. You get up early – you can start the day more productively and do more things in time. You go to bed at 4 PM – you either aren't going to sleep long enough. What is better? Of course, the first option. And if you teach your organism how to stay in the effective human mode, it will thank you through giving you energy and cheerfulness.
Remember: clear house is clear mind; clear desktop means clear working tasks. Try keeping everything clear: your living place, car, clothes, working environment. First, it is easy too find things when you keep them on their places. Second, you'll automatically systemize everything you deal with after surrounding yourself with order and cleanness, and this will help you do tasks muck better. And third, cleaning is a kind of meditation: when you clean the house, you stabilize your psychic condition and put thoughts to order.
Get rid of as many distracting factors as you can. TV, social media websites, pointless phone calls… they all are good and helpful when you need to relax, but everything has to stay in its limits. Before you devote your time to anything useless, think: is it worth? Do you really need that? Aren't there more interesting and important tasks waiting for your attention?
Form correct habits. Habits are actions performed automatically. You know how it works: just think about what you do on purpose. Try "catching" yourself, try to notice useless things you do unconsciously and replace them with useful habits. Those habits are important anywhere: in the office, in college activities, in the university, in family, in society. So, do not lose time, and gain new skills that can make you and your life better, teach you how to do everything in time and become happy.