Essay About Education and Games: to Be or Not to Be
on 08/05/2018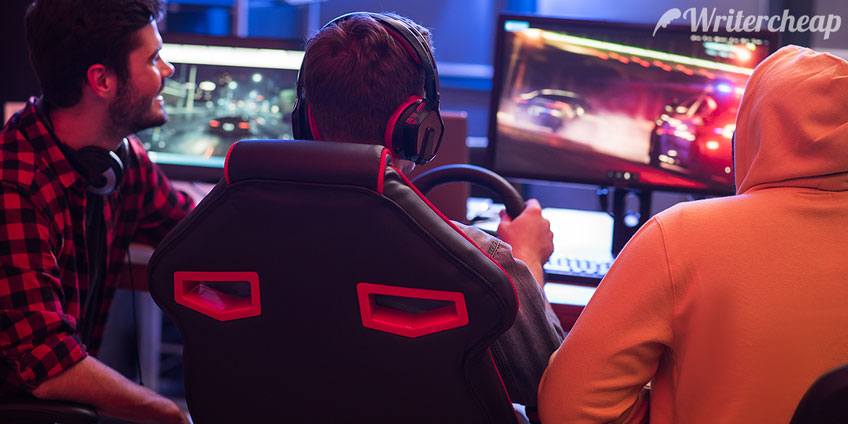 Gaming is an inherent part of kids' and teenagers' lives today since the computers have become very popular. Games are better every year, but does this development reflect on development of kids' personalities?
There are numerous articles about the impact of games on the children's psychological state, and this topic is among the trending ones for argumentative essays. Therefore, we would not be surprised if you had reached our resource to find some fresh ideas for writing your essay on the matter. And, here they are.
Pros of Gaming
Any activity develops somehow, and gaming is not an exception. When playing different games, a person can work out their attention and ability to quickly react to the changes and take the necessary action, decision-making, persistence, etc. Basically, it all depends on the game that is being played.
Moreover, there have been a lot of educational games developed for kids. Indeed, the gaming method has proved to be effective because it is in the nature of kids to play, so they learn willingly and without parents' efforts to make them to. There are games teaching the youngest ones to differentiate colors, letters, and numbers. Later on, they may learn how to count, and discover new words (including those of another language) just while playing.
Gaming can be useful not only for kids, but also for students and science in general. Did you know that, by playing games, a kid may contribute to the development of science? For example, there is a game Eve-online where there is an integrated mini-game to differentiate the cells which have protein from those that don't. Actually, there is a database of 13 million of pictures, and every player helps to sort them out, hence helping the science and just playing a game.
Gaming is widely used in colleges and universities where students are assigned to pass the simulation games to understand customers' behavior, business management, etc. Lastly, their impressions and things they have learned are organized into the final essay of the course.
Cons
However, there are a lot of people who would rather stay on the "con" side concerning the gaming issue. The main claims are that there is a lot of violence in the games that are popular nowadays. Furthermore, children under 3 years old are not recommended to spend time in front of the screens. Playing games makes children nervous and losing provokes aggression. In addition, many scientists have written tons of essays about the influences of the video games addictions, especially concerning teenagers, which are the most psychologically vulnerable due to the changes happening in their organisms.
Advice
When making up your mind about which side to take and support in your argumentative essay, just follow your feelings. If you truly believe in something, your essay will be written smoothly and it will not take a lot of effort to complete it. To make the composition stronger, add real-life examples, illustrate your opinion with the modern games and observations from their effects, and that would be it.