The Best Essay Topics that Deserve A+
on 01/10/2018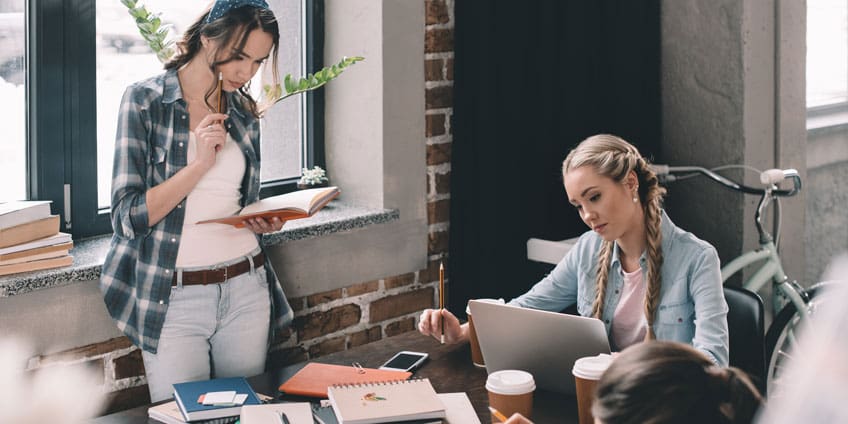 High school and college students may get confused when they receive a task to write an essay. Things might become tougher when a teacher gives no essay topics.
If you are the one of those young people, then the list of good essay topics below will definitely stand you in good stead. Just choose one of them and show your prof that you are a really cool Essay Writer.
All themes and personal essay topics we've decided to include to this list are trendy and intensively discussed: we used special tools to determine the popularity and relevancy of each topic.
So, grab the one you like right now and start writing your A+ essay.
Mass Media
Here's a powerhouse of the best essay topics!
This is the theme which always remains one of the most discussed. Media of all kinds influence lives of humans all over the world since the day the first newspaper appeared. Nowadays, mass media go on developing, and their evolution will definitely cause certain effects on the society and human personality. Looks like an interesting issue to take as an essay topic, doesn't it?
Modern Media: Do They Support Freedom of Speech?
What Is Journalism: Information vs Interpretation
Censorship in Media: Is it Good or Bad?
History of Media and Their Influence on Society
Media of the Future: How They May Look Like in 50 Years
Society
This theme is probably the most controversial. It is possible to coin thousands of essay topics about society. And with time more and more reasons to start the discussion will appear.
Which Social Organization Is the Best for Modern Countries?
Does the Size of a State Influence on Effectiveness of Its Social System?
What Is the Most Serious Social Problem Today?
How a Future Society Will Be Organized?
What Was the Main Factor of Social Changes Throughout the History?
Education
It is a good source of both general and personal essay topics for students. Education has been changing with time. It goes on changing nowadays. The 20th and the 21st centuries feature so many innovations in academia that you'll certainly find some good food for thought to introduce your essay topic.
Which Latest Trends of Education Do You Like the Most?
Is Modern Education System More Effective than It Used to Be in the Past?
Which Feature of Modern Education System Do You Find the Least Effective?
Is Online Education Bound to Dominate Traditional Schools in the Future?
Are Online Courses More Effective than Live Lessons?
Humanity and Personality
Humanity is just one huge topic for endless discussions. So, in this cool essay topics section we will focus on some special questions about personalities, societies, countries, and the whole world.
Nature vs Technology: Which Path Would You Choose and Why?
When Is Dictatorship More Effective than Democracy?
What Is the Goal of a Human? 
What Does It Mean to Be a Strong Person?
What Is Your Personal Motto?
Globalization
Globalization is probably the most dominating trend of the last decade. That's why we couldn't but include it into this list of essay topics.
The growth of the Internet, consolidation between the world's governments and businesses, great cultural exchanges happen all over the globe every single hour. So, good essay topics concerning globalization are always relevant and welcome.
What Does Globalization Mean to You?
Is the World Government the Final Point of Globalization?
Can Globalization Hurt Multiculturalism?
How Can Processes of Globalization Be Useful for Business?
Are You a Globalist and Why?
Business
Business essays are usually assigned in different business schools and courses. In fact, business is yet another controversial and interesting essay theme that can help you set your fantasy and analytical abilities free.
Check the examples of cool essay topics below and choose the one you are interested in:
Will Online Trading over Traditional Stores?
Which Field Do You Think Is the Most Profitable for Investments Nowadays?
What Is the Greatest Small Business Startup Idea at the Moment?
Which Factors Are the Most Important to Consider Before Launching a Business?
Which Latest Marketing Trends Do You Like the Most and Why?
Technology
Technological progress has been greatly supported by science and investments in the last 100 years. Technology has changed our world drastically, in many aspects.
And these changes can throw out some great ideas of essay topics. Let's think about the correlation between new technologies and lives of average people in terms of comfort. Or let's make some historical comparison. Or let's take a risk and try to predict the near and far future of hi-tech development.
Do You Think Robots Can Take Away Human Jobs in the Future and Why?
In Which Fields Could Humans Use VR Most Effectively?
How Do AR Applications Change Our Perception of the World?
What is Better for Technological Development: Competition Between Different Countries and Companies or Their Joint Efforts?
Are Modern Technologies Ready to Help Us Colonize Space and Why?  
The Internet
And here it is! This is the greatest battlefield of disputes and a cornucopia of good essay topics.
Is the Internet good or bad to humans? Are social media useful communicational instruments or cruel time-killers? Does the development of the World Wide Web pose a threat to normal face-to-face communication?
These and many other problems not only bother specialists all over the globe. They are challenging and worrying to each of us. And we all must think how to solve them.
Internet Anonymity: Pros and Cons
Should Governments Gain Control Over the Internet? Why?
Do You Support Internet Censorship and Why?
Social Media: Are They Useful?
What Are the Worst Features of Internet?
Sports
Sport is a lifestyle, entertainment, and business. Here you get at least three categories of cool essay topics. Let's consider them in more detail.
How Can We Prevent Overusing Injuries in High School Sports?
What is the Meaning of World Soccer Championship 2018?
What Sport Is the Best to Students?
Can Sports Improve Student's Academic Success?
Is Cybersport Equal to Traditional Sports?
Conflicts
The history of humans is the history of conflicts: wars, ethnical problems, racism, nationalism, religion rivals, political changes, you name it. Conflicts provided fuel to the evolution of a human being and the whole humanity. As a result, they are also among the most discussed and relevant essay topics.
Can Conflicts Have Any Advantages?
How Is it Possible to Solve Interracial Conflicts in the 21st Century?
Nationalism: Pros and Cons of Ideology
What Should Humanity Do to Prevent World War 3?
Historical Aspect of Ethnical Conflicts Around the Globe
These are the most relevant and up-to-date essay topics for modern students. If you have got the task to write an essay, choose the one which is the most compelling to you and stay sure of your well-deserved A+.
The correctly chosen topic is a half of success here. Good luck!