Examples of Movie Reviews
on 04/11/2018
It can seem so fun to review a movie, but actually, it takes time to describe all the elements and to express your personal opinion. The first thing to remember is that you do not have to be one of the professional writers or professional critics to create a great movie review. You just need to look at movie review examples and understand what you can write. By the way, if you are also looking for examples of argumentative essay, we can help you with that too.
Coming back to review samples, you do not want to report all the events of the film in your movie review. To provide a detailed information about the director, actors or history of the film are one big mistake. You won't see it in our sample of movie review. It should be catchy, personal and entertaining. Check out our movie review sample to gain a better understanding of how to write a movie review.
Example Review One. Dunkirk: to Stay Alive Is Already a Victory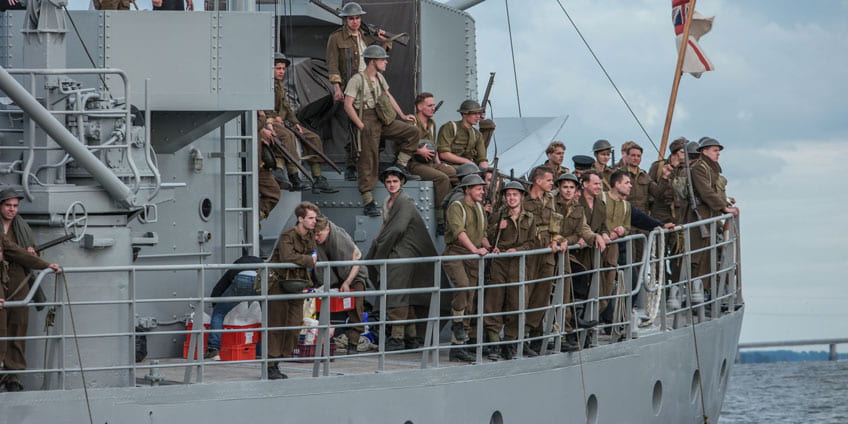 I thought that after "Revenant" cinematography is not going to change next 5-6 years. I have never been so wrong. No one's ever done anything like this before. But let me try to calm down after what I have seen and explain why it is so.
According to a formal measure, "Dunkirk" is a blockbuster for sure. The budget is huge, starring the most famous actors, moreover, Christopher Nolan himself is incredibly talented, is not he? But you need to watch the movie to understand that, in fact, it is quite experimental and innovative picture, especially when it comes to the Hollywood films of the same genre. There is nothing American in it, the stylistic differences with "Saving Private Ryan" or "Hacksaw Ridge" are too huge.
Cristopher Nolan belongs to two cultures and in the "Dunkirk" his British part has won unconditionally. It is an entirely English film with great British actors, including the king of Shakespeare's sonnets Kenneth Branagh as an admiral, and Oscar winner Mark Rylens as captain of a civilian vessel. There are also two well-known UK citizens – Tom Hardy and Killian Murphy, as well as debutant – who are very convincing in that role – pop idol Harry Stiles.
The Beauty Is Inside
But is it about actors? Tom Hardy in "Dunkirk", as before in Cristofer Nolan's movie "The Return of the Dark Knight", is silent and in a mask. The cast is important for sure, but the visual symphony is more fundamentally. The action is divided into three layers and placed in three forces of nature: land, where hundreds of thousands of British soldiers had been languishing while awaiting rescue, the sea on which ships come to save their compatriots and take them home, and air where strategic retreat was covered by the pilots of the British Air Force.
The legendary history of the evacuation of over 300 thousand people from the beach of a tiny French town at the very beginning of the Second World War is not typical for the cinema. There is no victory, it is more about defeat, retreat, fiasco. But the director neither tries to chant the praises of somebody's triumph nor mourns somebody's defeat. There are no enemies. The only opponent is the war itself, the absolute evil. The majestic beauty of the spectacular landscape looks like in the horror movie. The director mixes all the colors, all forces of nature. The sea is burning, the waves crashing under your head. Cristopher Nolan shows us that to stay alive is already a victory.
The Show
While watching the movie, you are trying to wrap your mind around the fact of how they could film it. The picture is technically flawless. It is even more spectacular to know that there is a bit of a computer graphic, that if the ship is sinking on camera, it was really drowned. If you have seen it in IMAX, you are the lucky one.
The Specificities
The one thing I have understood is that Cristopher Nolan has made anything but a classic war movie. We are used to the fact that war movies are first and foremost the personal stories of one soldier, and even more often of a small detachment. In that movie, soldiers were far from the main characters. An overall picture and atmosphere of what is happening are the main characters for Christopher Nolan.
It is not the story of a particular soldier from a particular city, it is the story of any soldier on the beach, any pilot in the sky, any sailor in the sea. At a certain point the idea "Maybe I was there too?" will sweep you off your feet.
Example Review Two. Public Enemies
Johnny Depp, Marion Cotillard. The 1930s. Fancy hats, threatening looks and lots of guns. What can be more perfect? Do you need anything else to wrap yourself in a blanket and start watching?
Usually, before watching a movie I need to see a trailer and read a couple of positive and negative reviews. At this time, I decided to watch it despite an enormous number of scathing reviews and haven't regretted for a minute. For the first time, I forgot about the trailer and just switched the laptop on.
History and Feelings
America in 1933, the economy is in a recession now known as the Great Depression. People are mad at the government that neither can make a difference nor declared itself in default. Dashing gangsters and bank robbers have more respect in the society than incompetent officials and venal authorities. Recently Edgar Hoover has been appointed the FBI Director and announced publicly that John Dillinger is a public enemy number one. Was he really that dangerous?
After watching that film, you can't really say either Johnny Dillinger was a bloodthirsty killer or good gangster. And this is the beauty of that masterpiece. So, what we are expecting from the movie with such a beginning? Ridiculous shooting, chases, and life behind bars. When you are past the mid-point, the audience starts to understand that movie is not quite as it seems. We see all kinds of friendship, love, manipulations, we hear the description of death from the protagonist and, finally, feel the bitter taste of betrayal. The most terrible one.
On the other hand, you will see an epic entourage. It is a trivial story about a charming gangster who fell in love head over heel with a coat-check girl, while everyone has been trying to mess it up. Nevertheless, millions of girls would say that nothing can be more romantic. There is something to see for men, for example, Thompson submachine gun, armor-plated Lincoln and sexy nightgowns.
To be honest, I let myself being such a naive to believe in a happy end. I believed that they are going to catch a plane to Rio-de-Janeiro as they have always wished. Now, be aware of spoilers! My dream was killed as well as Johnny Dillinger was.
A Fly in the Ointment
The plot at some points is protracted and monotonous, it is a game of cat-and-mouse. Sometimes the quality of the film depends on its length. If for one project long dialogs and infinite silence are a great thing, for others it is a dangerous trick. Moreover, camera work leaves much to be desired. The picture is very shaky almost every time when the camera starts to move and it is impossible not to notice. The chase scene looks like it was recorded on a cell phone by amateurs. Although, someone will definitely tell me that it is an idea to recreate the atmosphere.
Good to Know
In Europe film "Public enemies" came out as "Johnny D." that got lots of the attention. It is an example of a great public relations campaign at no additional cost.
We hope our examples of movie review will help you to get A+. Kindly reminder, the examples of a movie review can't be used as a finished paper without our permission. If you would like to get a professional movie review, you can order it on writercheap.com